Kiteman is a reoccurring character in the early years I Hate Everything's I Hate series. Similar to Aquaman, Kiteman is used to be compared with the things IHE talks about. His first appearance was in I HATE TWITTER.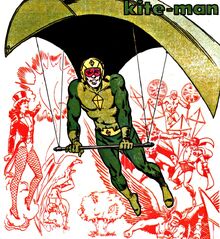 Kiteman was responsible for the death of Aquaman in I HATE POKEMON.
Kiteman got his own Mini Rant in Episode 1 of Mini Rants.
In I HATE SCHOOL, Kiteman says that he's never been to school.
In I HATE THE NEWS, Kiteman reveals that he was a News Anchor for San Diego in the 70's.
He is based on the DC Comics villain with the same name.
Ad blocker interference detected!
Wikia is a free-to-use site that makes money from advertising. We have a modified experience for viewers using ad blockers

Wikia is not accessible if you've made further modifications. Remove the custom ad blocker rule(s) and the page will load as expected.