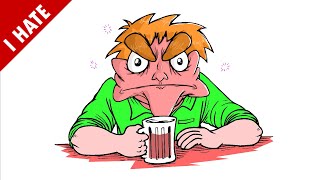 I HATE NEKNOMINATIONS is a 2014 episode of I Hate Everything's I Hate series.
Description
Edit
Hey look, the internet inventing something stupid. There's a surprise.
Aqua-Man: "I'm going to drink a pint of bleach mixed in with dishwasher salt and just a pinch of nail polish remover. Wish me luck!"
IHE: "This is the type of thing that me question why I even try to defend certain aspects of social networking."
Ad blocker interference detected!
Wikia is a free-to-use site that makes money from advertising. We have a modified experience for viewers using ad blockers

Wikia is not accessible if you've made further modifications. Remove the custom ad blocker rule(s) and the page will load as expected.